Phoenix Saloon
193 W San Antonio St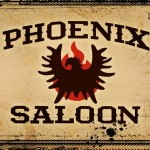 The historic Phoenix Saloon has been featured on The Food Network and The Travel Channel's 'Food Paradise'. Originally established in 1871, The Phoenix Saloon was the first bar in Texas to serve women. It had a beer garden with a bell in a tree for service (as it would besmirch a lady's reputation to enter the bar).
There was an alligator pit and badger fights, live music on Saturday nights, and a parrot on a perch inside the front door taught to say "Have you paid your bill!?" in German. In 1894, proprietor of the back room cafe (William Gebhardt) invented chili powder (devising the first process to crush and dry fresh chilis).
Prohibition closed the Phoenix Saloon in 1918 (though for a couple more years the basement served as an illicit brewery, with tunnels cut to run the drink out under the streets of downtown).
In February 2010, the Phoenix rose again as an historic Texas bar, chili parlor and live music venue. Among numerous awards it has been voted "Best Bar in New Braunfels" and "Best Live Music Venue in Texas". In 2013, Texas Monthly wrote, "The Phoenix Saloon, on the other hand, fits just right. I rave about the chili until I steal a bite of my friend's burger and, pronouncing it one of the state's best, try to bogart the rest."
Map