The AMMO Group
251 W San Antonio St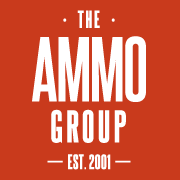 The AMMO Group is a full-service marketing, design and advertising agency that gets it.
The AMMO Group started out as AMMOadvertising back in 2001 when President Nathan Manlove found himself laid off from his job the day before his wedding. Determined that he could bring his passion for service, wit and creativity to his own stable of clients, Nathan purchased an old fruit-colored iMac and got to work.
Over 10 years later, AMMO has grown to be a full-service marketing, web design and advertising agency which services clients throughout Texas, the United States, and the rest of the universe. Nathan leads a team of vibrant and capable professionals who embrace his vision for creative resolution to the client's individual needs.
In 2013, the company changed its name to The AMMO Group, in recognition of their capabilities extending well beyond just "advertising". Today, the company can provide not only stunningly effective advertising, but strategic marketing, public relations, web design,  media and illustrative solutions. What they can't do in-house is entrusted to an elite corps of hand-picked printing, photo or videographic vendors.
Map